There's this band, you know?  They play downtown alot, and maybe they'll change your life.  But you'll only be into them for a little while before the scene will start getting dark, and druggy.  Kids will get stabbed at townie parties, those guys with the same tattoos as Gideon will start hanging around, and that guy who always shows up in sweatpants starts packing hard powders for the people that are looking for it.  This is pretty much the core tenet of Brooklyn's The Hold Steady, a hard-drinking band of classic-rock afficionados who just recently passed the ten-year mark.  Anchored around Minneapolis transplant and former Lifter Puller leader Craig Finn's densely woven tales of teenage sinning and repentance, the band embraces the power and theatricality of working class youth.  Kitchen work, hard drugs, nights at the bar that go on too long, Catholic confessions of love and lust:  these are the milieu that the songs operate in.  In the early days, their MySpace slogan was "For people who thought that New Wave was pretty lame, then and now", which should of course be tempered by the fact of Lifter Puller's existence.  The band came about from an idea that Finn and Lifter Puller / Hold Steady guitarist Tad Kubler had while watching The Last Waltz – an idea of a lost art of rock 'n' roll that would be blended with the searing punk rock that Finn and Kubler grew up on, like fellow Minnesota natives Husker Du.  Their work has classic touchstones (Zeppelin, the Stones, Seventies pop like Cheap Trick and ELO) and Kubler consistently proves himself to be one of the better guitarists of his generation (especially on jaw-dropping moments like Stay Positive's "Lord I'm Discouraged") but they never stoop to slavish imitation of the past.  Instead, the Hold Steady uses them as a reference point to anchor much more recent memories of debauchery. Ten years on they've become a band that deals in mythology: the massive nights, the doomed affairs, the booze and the hangover. The bands and the scene.  Hold steady.
Teeth Dreams, the sixth album by the Hold Steady, will be out March 25th on Washington Square.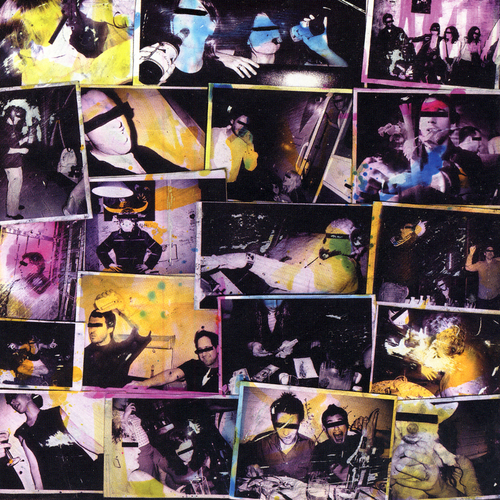 Almost Killed Me (2003)
The album kicks off by telling us the backstory: we went from the Crash and the Depression to the Second World War, and from there into a glittering atomic future that got ugly and druggy by the time the Seventies were closing out and then the Eighties almost killed us, let's not remember them quite so fondly. The resulting guitar pyrotechnics following the implosion of the dot-com bubble scrub away any trace of hip irony or awkwardly angular New-Wave possibilities, and leave the remaining nine tracks to carve out a peculiar sort of Midwest mythology. On "The Swish" Finn sings that "it was a bloodsucking summer, I spent half the time trying to get paid for my saviour" and throughout the album you can never quite tell if he's talking about Jesus or Charlemagne the drug dealer. It's an album of drunken swagger, a loud recollection of all the parties you got way too drunk or far too high at. You get blackout drunk and wake up with a straightedge band in Ybor City, FL. The ending track (the first in a series of epic closers the band would do) remains the greatest "last- song-of-the-festival-show" song you'll ever here: it rides in on a bassline that pairs well with the setting sun, and reminisces about the good times that were had while simultaneously admitting that at one point you almost died and found out that maybe it wasn't worth all the good times after all.
– "Positive Jam"
If you want to figure out where you are, the first thing you have to understand is where you come from. "The Eighties almost killed me, let's not remember them quite so fondly"
– "The Swish"
"It was a bloodsucking summer, I spent half the time trying to get paid for my saviour. Swishin' through the city centre, I did a couple favours for these guys that looked like Tusken raiders"
– "Most People Are DJs"
Hold steady Ybor City, you're up to your neck in the sweat and wet confetti. Take off your beret, everyone's a critic and most people are DJs. It's a song that excellently conveys how tiring – and pretty sweet – the constant party scene can be.
– "Certain Songs"
I guess you're old enough to know. Kids out on the west coast are taking off their clothes, screwing in the surf, and going out to shows. The confident piano chords here (courtesy of keyboard wizard Franz Nicolay) conjure up an idea of Billy Joel, but a Billy Joel where the kitchen workers and the bartenders are doing cocaine out of sight of the patrons and every night is redeemed by those certain songs – you know the ones. The ones that have been scratched into your soul.
– "Killer Parties"
The first place you'll hear the line "if they ask about Charlemagne, be polite and say something vague", a topic that is revisited on the next album. The bassline rolls into this song like far off thunder and the feedback-guitar echoes like distant heat lightning. The entire album is summed up in one line here: "Ybor City is tres speedy but they throw such killer parties. Killer parties almost killed me."
Separation Sunday (2005)
A concept album, of sorts, the band's best album follows four main characters: The Narrator, Charlemagne the dealer, Holly / Halleluiah the scenester/addict/party girl (and – spoiler – a hoodrat), and Gideon, a tattooed skinhead. They kick around the party cities of the United States and use the backstreets of Minneapolis as a home base of sorts. Holly admits at the very beginning of the album that "there's going to come a time when I'm going to have to go with whoever's going to get me the highest", leaving the door open for drugs or religion. It is an album that is primarily concerned with the loss of innocence and the idea of repentance; Holly gets druggy, gets born again at a revival camp on the Mississippi River,
gets druggy again, wakes up in a confession booth, and asks the priest if she can tell his congregation how a resurrection really feels. Charlemagne does a brisk business but ends up getting high too often on his own supply: "He asked what happened to Charlemagne. She just smiled all polite-like and said something vague. She said Charlemagne got caught up in some complicated things. She wiped at her nose and she winked." There is a rough yearning implicit in the hard-scrabble tales of adolescent fuckery contained on Separation Sunday, a nostalgia for a bad time that didn't seem so bad when you were in the midst of it. Holly finds religion in the end but you know it isn't going to stick around long enough to make a difference, and this is fundamentally where Finn differs from Bruce Springsteen, another songwriter obsessed with youth and the possibility of salvation. Finn makes it clear that salvation, even when found, is never a permanent thing. Salvation is found in drugs, in friends, in music, and in God, and none of them will last forever.
– "Hornets! Hornets!"
"She said always remember never to trust me. She said that the first night that she met me. She said there's gonna come a time when she's gonna have to go with whoever's gonna get me the highest" – this lone voice is how the album starts, and it sets the scene for every bloody moment that is to come.
– "Your Little Hoodrat Friend"
The band's "breakthrough single", so to speak, is a deceptively straight-ahead palm-muted power chord song that hits like a switchblade in the ribs up in Penetration Park. "I hate all the things that she sticks into her skin, like ballpoint pens and steel guitar strings. She says it hurts but it's worth it."
– "Stevie Nix"
An exuberant riff-riot of late nights, and about how sometimes the ER seems like an after-bar. It's also a treasure trove of some of Finn's best lines. "When we hit the Twin Cities, I didn't know that much about it. I knew Mary Tyler Moore, and I knew Profane Existence." "You remind me of Rod Stewart when he was young: you got passion and you think that you're sexy, and all the punks think that you're dumb." Plus midway through is another one of those gorgeous, thrilling Franz Nicolay piano sections that seem to sum up all of the yearning emotions that run through Craig Finn's songs. Lord, to be 17 forever.
– "Multitude of Casualties"
"She drove it like she stole it. She stole it fast, and with a multitude of casualties." Also, "at least in dying you don't have to deal with New Wave for a second time."
– "Don't Let Me Explode"
Here's where it all falls apart: Holly and the Narrator come back from their trip through America, wasted and exhausted. Charlemagne is gone, a victim of the habits he was peddling. "We didn't go to Dallas because Jackie Onassis said it wasn't safe for Catholics yet. Think about Kennedy, and then think about his security, and then think about what they might try to pull on you and me."
– "How A Resurrection Really Feels"
Separation Sunday's Big Closing Moment is a swooning, staggering number where Holly wakes up in a confession booth after a bloody, druggy, ugly party. She's wearing broken heels and a crown of broken glass. Is Holly a stand-in for Jesus? At the very least, she's the titular hoodrat from earlier in the album. The coda is gorgeous, a mixture of guitar, horns, and that piano, and it carries the album off into its own uncertain future.
Boys And Girls In America (2006)
It's not a concept album like Separation Sunday, but it may as well be. Holly says that "words alone could never save us" on "First Night" and it's practically the theme; the album kicks off with doomed poet John Berryman diving into the river after realizing this very thing. It also starts off by admitting that Sal Paradise was probably right: boys and girls in America have such a sad time together. Throughout the rest of the album the band outlines exactly what they mean by this appropriation of Kerouac: the hookups, the drinking and drugs, the parties, the manipulations, the loneliness. The gang from Separation Sunday appear again in places, mostly on "Same Kooks" and "First Night", but the stage is given mostly to
others. "Stuck Between Stations" gives us Kerouac and Berryman; "Chips Ahoy" features a psychic girl with a few problems of her own; "Party Pit" and "You Can Make Them Like You" posit the loneliness that lies at the heart of the party scene. "Chillout Tent" is perhaps the most ambitious of all of these remarkably ambitious numbers; we're told of a rock festival in western MA and of two people who have bad trips on drugs and hook up in the chillout tent afterwards, amongst the OD'd and the medics. The album is immediately more massive-sounding than either of its predecessors; the guitars surge, the pianos soar, and every song sounds like the soundtrack to an epic night out that resulted in some uncomfortable tragedy. If Separation Sunday felt like Craig Finn's novel about a little scene and its central characters, Boys And Girls In America feels like his Great American Novel about ALL of the little scenes and the wild characters contained within them. That the album ends on "Southtown Girls", a song about finding salvation in loyalty instead of flash, is indicative of the
idea that the only way out is to settle down; the party pit may be lonely in the end, but you don't have to be lonely forever.
– "Stuck Between Stations"
The piano that runs through this song really drives its power home. "She was a really cool kisser and she wasn't all that strict of a Christian. She was a damn good dancer but she wasn't really wasn't that great of a girlfriend."
– "Hot Soft Light"
It started off recreational, and it ended in a hospital. Finn claims to never be at the incident, on the advice of his attorney. "The band played Sabbath Bloody Sabbath, you said it was stormy and adorable."
– "First Night"
An aching ballad about looking back and realizing that you can never get that high again. Features the return of Charlemagne, Gideon, and a hospitalized, newly religious Holly. Features the greatest lead-up and coda the band will likely every record.
– "You Can Make Him Like You"
A song about using people to get along in life. "You don't have to deal with the dealers, let your boyfriend deal with the dealers. It only gets inconvenient when you want to get high alone." It's always on the boys, and you can make them like you.
– "Citrus"
A rare acoustic track. "Hey citrus, hey liquor, I love it when you touch each other." "I've had kisses that made Judas seem sincere."
– "Chillout Tent"
A soaring number about finding love in the medic's tent at a big festival. "It's sexy…but kinda creepy," Finn sings, probably while winking.
– "Southtown Girls"
The Epic Closer, a song about settling for loyalty and comfort. Features some soaring guitar work that carries the album off into the horizon and a vibe that approaches southern rock in its genial embrace of the interplay between guitars and padded keyboards.
Stay Positive (2008)
Stay Positive found the band stepping even further into an embrace of an imagined limelight, building songs that sound gigantic and taking risks with added instrumentation – the harpsichord on "One For The Cutters", the (gasp!) New-Waveish synth on "Navy Sheets", the banjo that legendary indie rocker J. Mascis is plucking on "Both Crosses". The band claimed, then and now, that the album is about "ageing gracefully" although the songs themselves don't quite bear this out. The album is about ageing, certainly, but it never seems very graceful. The opening track, a slash-and-burn Husker Du-referencing number, is about waking up no longer young in a dead-end town and trying to make something of it before it's too late. "Joke About Jamaica" is about a bar girl who wakes up one day to find that the "bands are getting louder" and she's getting older and no one wants to take her home anymore. "Lord I'm Discouraged" revolves around a woman the narrator loves that has fallen into deep addiction with no real hope of ever getting out (it also features Tad Kubler's best guitar work and indeed the best guitar solo of the entire 2000s.) Elsewhere there is a sort of a theme running through the songs – not to the extent of something like Separation Sunday, but close. "One For The Cutters" sketches the story of a college girl who gets bored of her freshman boyfriends and starts partying with townies instead. She has a better time with them right up until the point where one of the townie kids stabs another townie kid. Several other songs make reference to the incident, either overtly or using the metaphor of a crucifixion. Stay Positive is more subtle in some ways than earlier Hold Steady albums; there is more loving interplay between instruments, and Finn's lyrics get to stretch out a bit and revel in the detail more than previously. Franz Nicolay claimed it as his favourite Hold Steady album and left in 2010, stating that he'd achieved everything he wanted to achieve with the band.
– "Constructive Summer"
The band always has stellar opening tracks but this might just be the best. "Let's raise a toast to St. Joe Strummer, I think he might have been our only decent teacher"
– "Sequestered In Memphis"
Angry and scared, the narrator recounts to the police everything he knows about a girl he met at a bar. Rocks and swings like a vintage E-Street Band number
– "One For The Cutters"
A heavy story about druggy times – like most Hold Steady songs, but this time with more overt murder and cover-up.
– "Lord, I'm Discouraged"
Like "First Night" it's a ballad, but it's much heavier and hopeless, except of course for the pyrotechnics that result mid-way through when Kubler conjures up the ghost of Slash's career.
– "Stay Positive"
A retrospective and a fan thank-you, of sorts. "The kids at the shows, they'll have kids of their own, and the sing along songs will be their scriptures".
– "Joke About Jamaica"
A song about growing older and no longer fitting into the scene you once did. "They used to laugh when she said 'dyer maker', all the boys knew it was a joke about Jamaica".
– "Slapped Actress"
Man, we make our own movies.
Heaven Is Whenever (2010)
Heaven Is Whenever is a complicated sort of record. On one hand it's very easy to hear the absence of departed keyboard wizard Franz Nicolay; there is very little piano on this album, and the atmospheric flourishes that he brought to tracks like "Stuck Between Stations" or "Stevie Nix" are sorely missing. On the other hand, Kubler steps in to fill the void admirably, largely by virtue of knowing when not to fill in the void. A lesser band would have attempted to fill the holes with noise, cramming riffs into every nook and cranny in the songs. Kubler shows restraint instead, choosing to forge ahead with a more straight-forward guitar-rock cribbed directly from the Boss and Thin Lizzy. Most of the songs are built
around bouncy riff figures that breathe rather than oppress; a track like "Rock Problems" seems exuberant despite its troubled protagonists and his tasteful ghost-notes in the background of "We Can Get Together" add a sort of the atmosphere that Nicolay would typically have brought. Lyrically the album still deals with late-period American observations of wasted youth although there is a sweetness present, a hope that the doomed characters of previous albums never really had. Interviews for the upcoming album (Teeth Dreams, out March 25th) indicate that the album was rushed (which they were trying to avoid this time around) in order to provide an excuse to go back on tour; this likely explains the similar sheen surrounding several of the tracks and the simpler, more straightforward nature of Finn's lyrics.
– "The Sweet Part Of The City"
The album's lead-track strikes a deceptively laid-back Stones-esque country-rock vibe.
– "Soft In The Center"
You can't get every girl – you'll get the one you love the best. You'll love the one you get the best.
– "Rock Problems"
A bouncy little number about first world problems of the young and drunk.
– "We Can Get Together"
A sweat-drenched ballad with a lot of musical touchstone. "Utopia is a band, they sang "Love Is The Answer", and I think they're probably right"
– "A Slight Discomfort"
Featuring some epic drumming and crashing guitar-and -keyboard to bring the whole thing home.